Sweet 16 photography is one of the most exciting and wonderful event photography niches that offer life's incredible moments. Photography art achieves success when you capture those once-in-a-lifetime moments meaningfully. If you want to succeed, you need to adopt proper camera settings, tips and ideas that also help to boost your photography business.
Look no further! Our roundup will give you all detailed information, including backdrops, poses ideas, sweet sixteen photoshoot package ideas, and others; so, what are you waiting for?
Let's get started together!
What is sweet 16 photography?
A sweet 16 is a coming-of-age celebration for a teenager's 16th birthday. It represents a rite of passage when a girl or boy shifts into young adulthood and maturity. This milestone is celebrated in some parts of the United States and Canada. There are many opinions and stories about the origin of sweet 16.
Some think that the origin of the sweet sixteen comes from the Queen Elizabeth I era when clothing and fashion were both made mandatory. Others believe that the Mexican Quinceanera takes place on a girl's 15th birthday.
Whatever the story behind this celebration, the purpose is to give teenagers beautiful moments so that they can remember and treasure those memories forever.
How to Shoot Sweet 16 Photography? Basic Sweet 16 photography tips to follow
On this special milestone birthday celebration, some prefer to visit their religious place like church. After that, they host a party with family and friends.
From the venue to sweet 16 traditions, you get many amazing things to frame. But perfection lies in proper planning that gives perfect composition. And as you know, the essence of photography lies in its evoking power that it cherishes over decades.
So, below we'll break down the basics.
Mindset
To avoid random clicks, you can create a checklist with distinct titles of your planned shots, like "shoe ceremony." If you want to capture candid moments, focus on joyful; yet memorable ones. Also, fix celebration-oriented plans, like Vintage theme, Parisian theme, Disney theme, etc. All these factors ensure that all moments are framed perfectly.
Pro Tip: Try to capture some unplanned moments that are special and unique to the event. Or, check out Birthday party photos on Pinterest.
Bring the Right Gear
DSLR cameras and lens selection depend on your expertise level. But make sure to carry some must-have gear, like extra batteries, memory cards, lens protectors, and others. All these types of equipment support you in different unwanted situations.
Pro Tip: Check out some best DSLR cameras for professional photography.
Camera Settings
There are no actual and perfect camera settings to frame the event's story, glam, and joyful moments. The more you practice, the more you adapt to camera settings, including ISO, shutter speed, and aperture. After that, you can find the creative and unique settings that help you add more fine-tuned details.
Pro Tip: You can try a standard (50mm) or telephoto lens (300mm).
Composition
To stand out from the rest, offer unique perspectives that relive their memories whenever they look. You can use creative posing ideas, lighting techniques, or even backdrops that reflect the theme to achieve your goal. And in the end, you can offer jaw-dropping photographs to your clients.
Artificial Lighting or Flashlight
For event photography, the most crucial part is to deal with background, props, and other decoration accessories. Some prefer to use artificial lights, such as bulbs, bright chandeliers, etc, for an indoor venue. But for outdoors, the scenario is different. So, pay attention to using artificial lighting.
Note: To avoid shallow images, don't direct flash or artificial light straight at the subject. Or, you can use a rotatable external flash to achieve wider illumination.
Experiment with Shots and Perspectives
Experiment more to explore your freestyle mode. Suppose you want to frame out a significant number of attending guests. You can capture from a great height/rooftop for the best photoshoot. All these innovative ideas offer you several perspectives and angles.
Location
If you want to highlight the beauty of the celebration spot, be familiar with the hosting venue. So, it is wise to visit before or early the celebration. Also, you get enough time for mind maps, like when and where natural light offers you a masterpiece and others.
Get Close, Get Involved
A zoom lens can become your best partner when you want to highlight your interaction through photographs. It allows you to capture your subject's beauty, clarity, and expression from a crowd of wide guests. Also, you can capture incredible scenes like confetti in mid-air, candle-blowing, unwrapping gifts, and others.
Don't Miss to Frame Out Guests
Guests are also essential parts of this celebration. So, don't miss to include them on your photography frame unless it's a scattered crowd. You can also portray some creative themes as per your planning to take several photos of the guests. Also, capturing their blessing or playful moments will bring welcoming memories alive.
Capture All Precious Moments
As a photographer, you need to keep a keen eye out for precious and incredible expression moments like a pure smile or twinkle in the eye when all wish for him/her. Also, you can snap some shots of other kids' movements and play. To highlight all details of the celebration, you can go with some documentary shoots like dessert decorations or a table full of food.
Edit Photographs
Sometimes, editing gives your desired photo look. Using Photoshop, you can deal with several image issues, like color correction, retouching, adjusting contrast, brightness, and many more. Also, you can portray a storyline with your unique styles and get high-quality images.
Now that you have the perfect photography planning, it's time to capture lifetime moments. But before pressing the shutter button, let's understand some facts about indoor and outdoor sweet 16 photoshoots below.
Indoor vs Outdoor: What's the Better Choice for Sweet 16 Photoshoot?
The selection of photography places (indoor & outdoor) depends on the hosting party and theme types. So, before booking vendors or indoor decorations, pay attention to party themes. Here are some key points we highlight that help you decide which gives you the best photography experience.
Indoor Photoshoot
Generally, indoor photography refers to shooting inside a structure or building, like a photo studio, restaurant, home, etc. As a photographer, the most challenging thing, you may face proper lighting in indoor photography if the venue has low lighting issues. You'll need to choose the perfect lens or artificial lighting to avoid these unwanted situations.
However, if you want to bring some social media theme (i.e., Instagram-theme) into a savvy teen's birthday party, then indoor offers you creative ideas. Also, you can try spa parties at home, implement a Hollywood red carpet theme, or other plans.
Outdoor Photography
Outdoor photography offers unique backgrounds, natural light, and scenarios that give fresh and realistic vibes. If you're planning a beach party, bonfire birthday party with friends, pool, garden, or carnival party, outdoor is the best choice. For outdoor venue decoration, you can use small cushions, chairs, fairy lights, balloons, or musical instruments.
However, the outdoor party offers more fun to reinvent every moment with friends and family. For example, a Netflix party or movie night.
Are you ready for stunning sweet 16 photoshoots? Let's head to the next section to get an idea about the best sweet 16 backdrops.
Sweet 16 backdrop ideas – 10 Best photography Backdrops to Use
Sweet 16 birthday backdrops play an important role in adding more beauty and festive vibes. That's why we highlight some incredible and straightforward; yet trendy backdrops ideas below:
Glitter Diamond Backdrop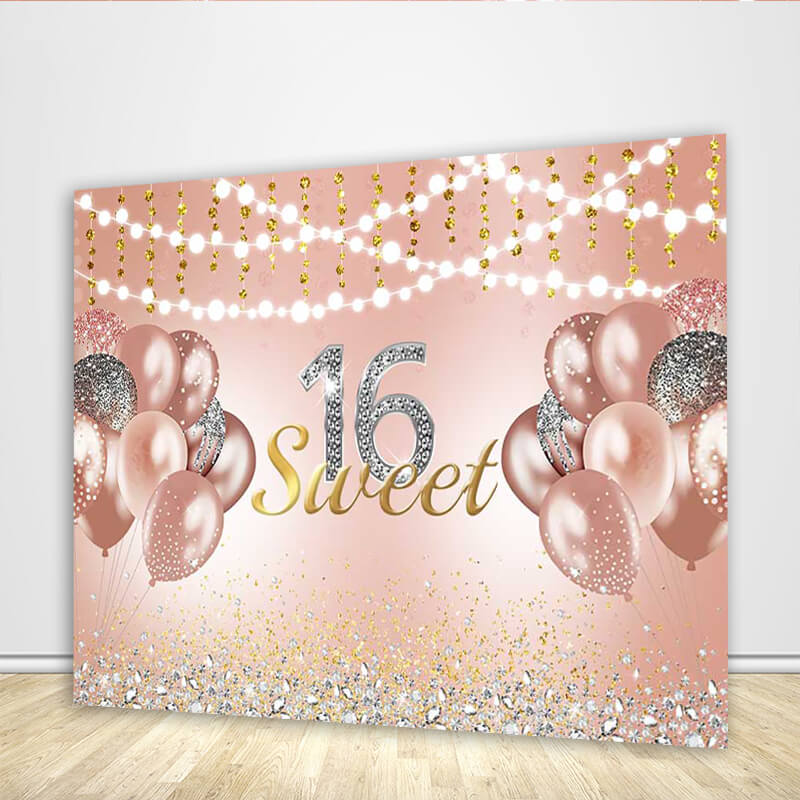 From indoor to photography studio shoots, this backdrop fits perfectly for rose gold birthday-themed parties. You can choose it for adding bright colors like gold and white to your party space. However, you can add other accessories like balloons, flowers, teenager name banners, etc. For a perfect photoshoot, place it behind the decorative table.
Note: This backdrop is suitable for a boy or girl's 16th birthday celebration and other event photography.
Paris Eiffel Tower Backdrop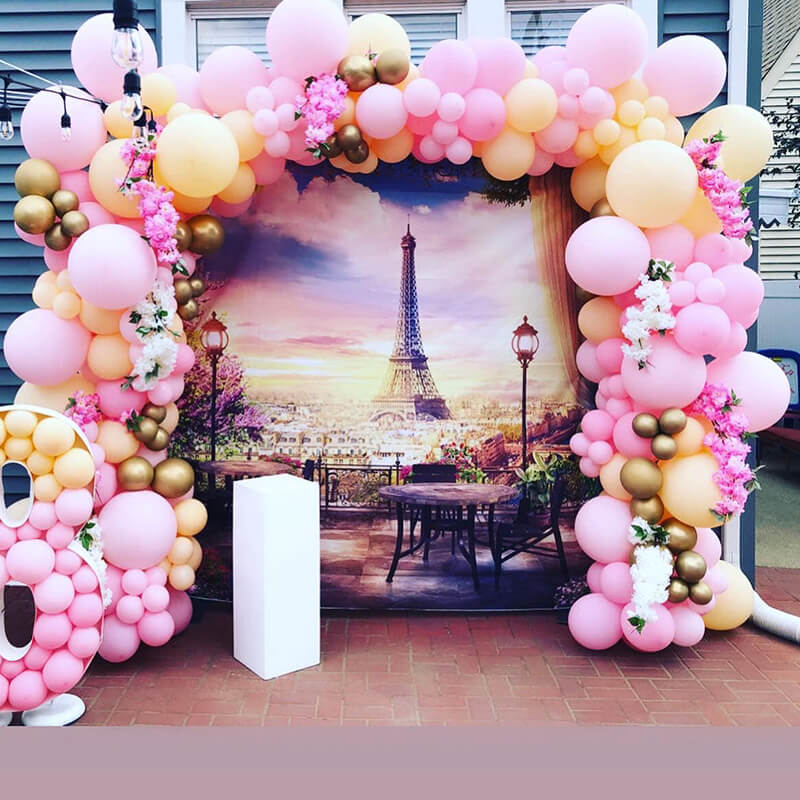 Do you want to set a Parisian theme for celebrating a sweet 16 birthday? A simple; yet gorgeous Paris Eiffel tower backdrop can fulfill your dream. Also, you can decorate the backdrop using different birthday essentials, like a "sweet 16" sash to balloons, candles, a rhinestone tiara, etc. Or, you can give your birthday pose standing in front of this backdrop.
Pink Floral Round Birthday Backdrop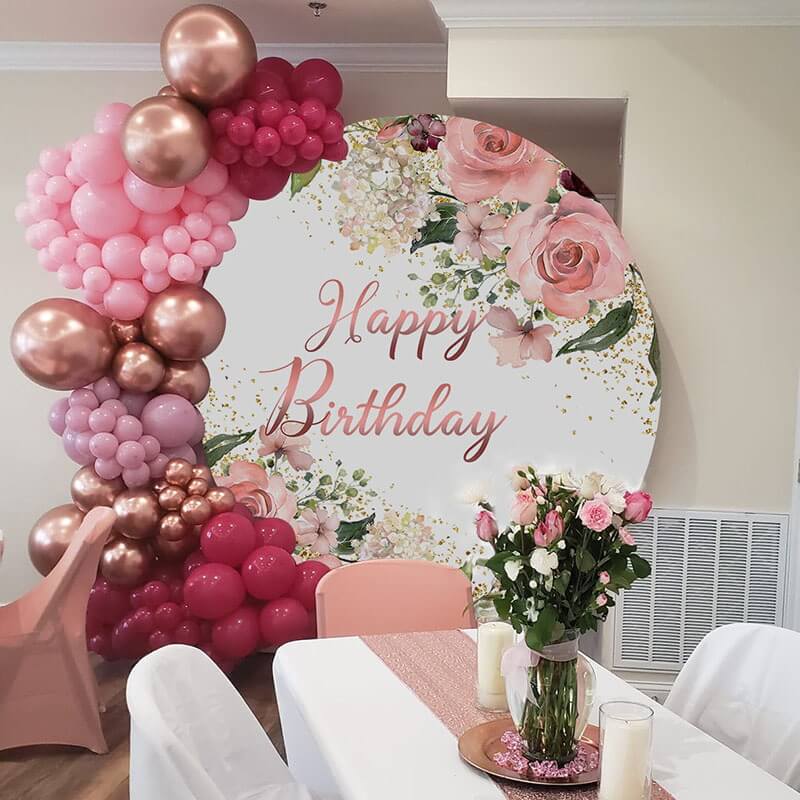 It is one of the most soothing event backdrops that may suit your birthday outfits and decorations. Diy-ers, event planners, decorators, and others prefer these backdrops to host birthday parties, weddings, theme parties, bridal showers, and others. You can place decore these backdrops with several colored balloons, flower jars, and other birthday props.
Sweet 16 Backdrop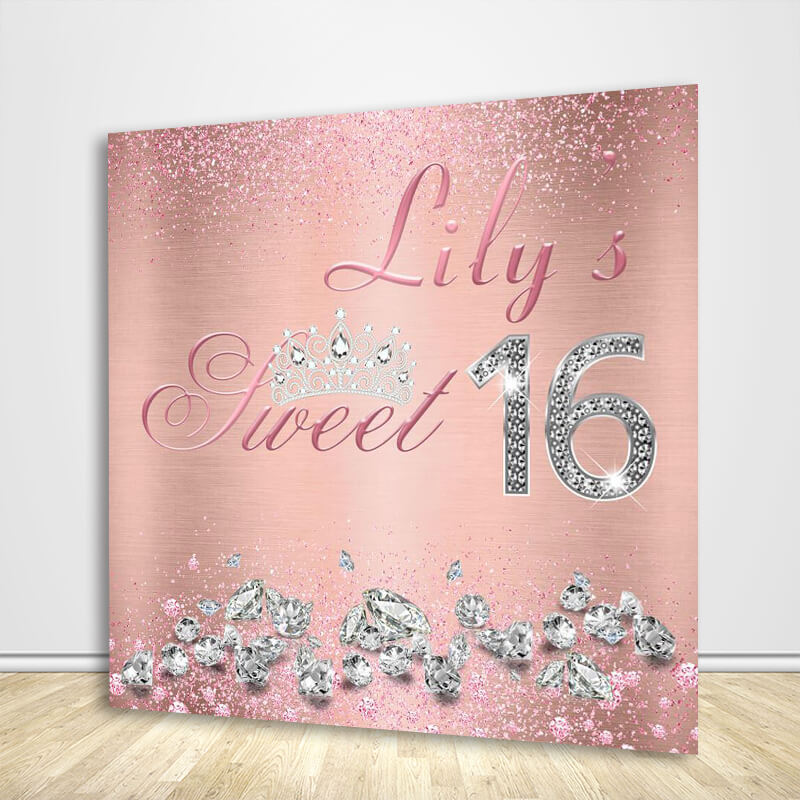 Dazzling diamonds with a crown and sweet 16 numbered birthday backdrop offer a fantastic party atmosphere. Also, the backdrop is ideal for the outdoor photo booth, garden party, or pool party. You can also decorate these backdrops as per your choice to highlight more soothing views.
Disney Princess Backdrop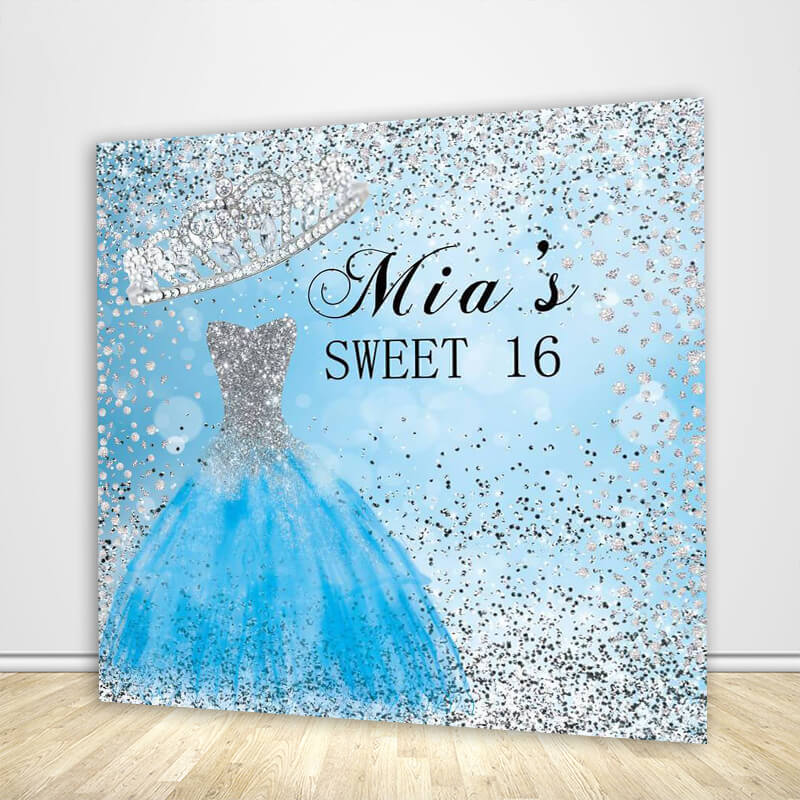 It is one of the best sweet 16 happy birthday backdrops for a teen princess. This backdrop is the best choice if you want to create a Disney theme party. Also, you can add colored balloons along with butterflies to give a Disney princess view. Or, try a storybook backdrop to highlight the little princess story.
Rose Gold Shiny Glitter Dots Backdrop
Are you looking for a vintage theme backdrop for a sweet sixteen party? With this rose gold diamonds and glitter dots backdrop, you can achieve your desired party look. Also, you can decore this backdrop with delicate taped flowers or streamers. Perfect for holiday parties, like wedding photography, bridal festivals, etc.
Glitter Diamonds Backdrop
It is one of the best backdrops for birthday parties with a gorgeous and magical look. It is a vinyl, lightweight, durable, wrinkle-free, and easy-to-carry backdrop. Also, the backdrop is ideal for baby showers, outdoor parties, newborns, home decor, and other events. As a photographer, you can use it for product photography, DIY photo booths, etc.
Note: Won'tWon't deliver backdrop stands or clips with a backdrop. Also, the golden light is an effect of a golden flash of the backdrop.
Creamy Flower Backdrop
It is one of the most popular party celebration backdrops for its vibrant colors and flower variations. White curtains, beautiful floral walls, and an excellent combination of multiple colors offer you the perfect atmosphere for different types of celebrations. Also, you can set this backdrop behind a decorative table using several flower props.
Cloud and Moonlight Simple Round Backdrop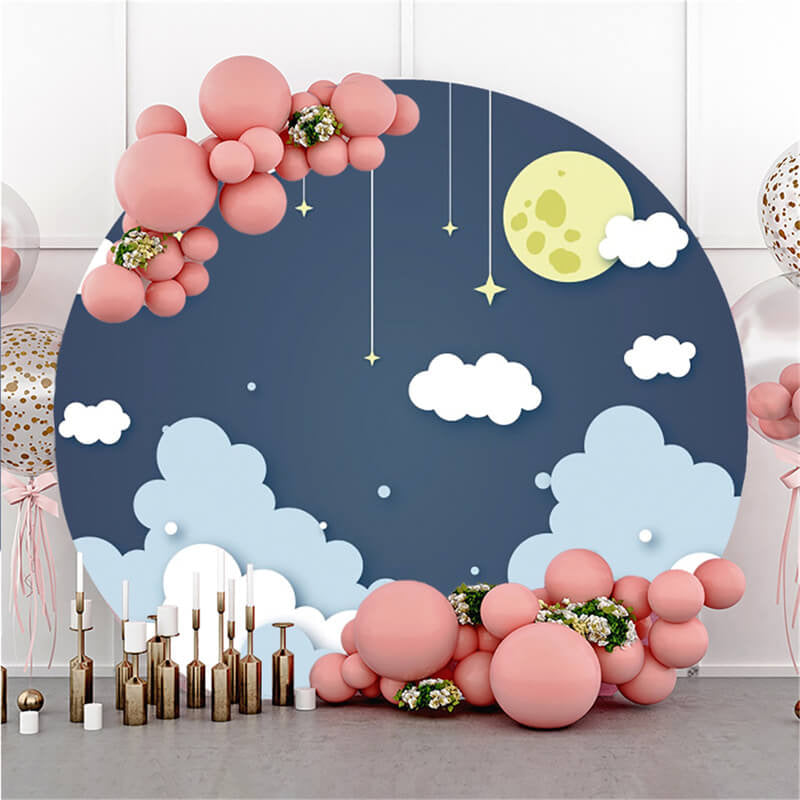 If you want to host a night birthday party, this backdrop offers you several customization opportunities. You can place golden candles in front of it, and use some fairy lights, flowers or other presents for decoration. You can try a glitter and pink combo round backdrop for more attractive views.
Gold Blueish Backdrop
You can use this backdrop indoors or photo studio to celebrate your birthday party. To highlight its glam and gorgeous part, you can use several flower vases, colored balloons, fairy lights, and other props. Also, the backdrop color suits several events like engagement parties, girl bachelor parties, and others.
After going through sweet 16 party backdrops, let's explore some beautiful and unique outfits in the next section.
Sweet 16 Outfits – What to wear to a sweet 16 photoshoot?
A girls sweet sixteen is a significant and precious milestone to celebrate. With twirling, elegant, and soothing dresses and outfits, a girl's beauty highlights most. Also, to match with a theme party, you need proper planning.
For more detailed information, let's check out below:
Floral Dress with Light Jewelry
A vibrant and light-colored floral dress with light makeup and jewelry represents a girl's feminine look. But you can choose a skin tone color for a gorgeous look. However, this outfit perfectly suits all outdoor and indoor themes, boho backyard picnics, and others.
Off-shoulder Dress with Tiara
Are you a Harry Potter lover? Or, love to celebrate as a princess like snow white, cinderella, or others. These outfits help you to get your desired look for a harry potter themed party or Disney-themed party.
Model Party Outfits
Dress with slits, a ponytail hairstyle, jewelry, and other cosmetics offers you a perfect model party outfit. Also, you can try some red carpet or Hollywood-themed celebrations. But remember to try different birthday poses to make the party more joyous.
Masquerade Theme Outfits
Do you want to add a mysterious view at sweet 16 celebrations? Gold and deep purple or sky blue with gold colors dress, trendy jewelry, and other makeup perfectly suits the masquerade theme. Be aware of adding feathers for decoration.
Tulle Dress
A tulle dress with a crown offers the perfect outlook for tie-dye parties, indoor picnics, or sleepover parties. You can choose any vibrant or light colors tulle dress as per your party decor. For a gorgeous or trendy look, you can try unique hairstyles too.
However, all those mentioned outfits are discussed considering several party themes. But if you plan a mysterious or another party theme, feel free to try outfits as you wish.
Sweet 16 photography poses – Top 10 Sweet 16 photoshoot ideas to follow
"Photography takes an instant out of time, altering life by holding it still." – Dorothea Lange.
Life changes over its flow. That's why we desire to freeze our special moments within a frame to cherish them over a lifetime. And photography is one of the best things to capture those sweet and memorable memories.
Are you searching for the top sweet 16 photoshoot ideas or precious 16 birthday photography tips to immortalize every single moment? Then you're in the right place. Go through every idea below and try your favorite one.
Blow Balloons & Paper Confetti
Sweet 16 birthday celebration gains its rhythm with "16" number balloons. If you want to add texture and cool effects to your subject photography, you can suggest blowing paper confetti and balloons toward the camera. Also, your subject can go with any personal style, choosing neutrals or colorful props.
Pro Tip: Make sure you use a fast shutter speed to freeze the beautiful confetti in the air.
Cupcakes & Candles
You can focus on colorful and delicious cupcakes for your birthday photoshoot. Adding some candles or sparklers can create striking and memorable photos. Some love to pose with cupcakes in one hand and candy or a "16" number candle in the other. Some prefer to take a bite of those decorative cupcakes to add more funny memories.
Play with Your Dress
Another exciting yet playful pose is playing with a pretty dress by grabbing the edge or the hem. Sometimes to offer a princess atmosphere, you can suggest your subject lie down on the floor spreading the dress edges and decorating the surroundings with balloons, flowers, and other things. But for a short dress or gown, they can try an air-fly pose by holding balloons.
Pose with Birthday Cake
The most excellent way to track birthday cakes of sweet 16 celebrations is to take several cake photos. Some love to give surprises presenting his/her favorite cakes, and you can capture those emotional moments. Also, before cutting the cake, some love to pray for birthday girls' wellbeings, so don't miss shooting those precious moments.
Opening Presents
The celebration's core part is unwrapping presents with amazing reactions. All those valuable moments can offer you great portrait photography poses ideas. But if you don't want to photoshoot opening present moments, make sure you do a photoshoot before. After unwrapping, you can use those presents as props to produce great sweet sixteen photos.
Cake Smashing Pose
The pose reminds your parents of your early age naughty activities. Cake smashing is one of the most natural and pure poses in the birthday celebration. After blowing and cutting, parents and friends apply some cakes on the birthday girl/boy's face. So, make sure to capture all those memories into your frame.
Take a Flat Lay of the Decorations
The sweet sixteen decorations can highlight so much about the person's taste, favorites, and likings. And the dearest ones put a lot of effort into setting up those things for their happiness. So why not capture it in photography by capturing some details? For shooting a decorative table, try birds-eye perspectives.
Flower Princess Pose
If you find a well-decorative garden area or flower field near the birthday celebration vendor, this pose offers the best mood for your subject. Wearing a flower crown, she can walk through mother nature's beauty. Or, you can suggest feeling the breeze air, the flower charm, and give her preferable poses.
Freeze the Moment with Bubbles
Bubbles will allow you to take classic and charming photographs of your subject. Ask a teen to create bubbles and capture their joy and beauty by freezing moments in one frame. But make sure to use a macro lens to take those close-up photos and every detail.
Have fun with Friends & Families
Select the most appropriate time for snapping families and friends group photos. By including them in birthday celebration parties, you can gift the birthday teenager a treasure that they can nurture over decades. For capturing group photos, you can choose any lens. But using a telephoto lens (50mm) allows you more flexibility to shoot groups and stunning close-ups.
Now it's time to get an idea about sweet 16 photography packages and prices so that you can demand your worth.
Sweet 16 Photography Packages & Prices
There are different photography niches in the photography marketplace, like portrait photography, headshot photography, product photography, and many others. And all these niches demand different pricing as per difficulty and professional level.
Are you ready to boost your photography business and drive more clients to your favor? Let's take a quick look below and set your own by getting ideas.
| | | | |
| --- | --- | --- | --- |
| Packages | Basic – $120 | Standard – $245 | Premium – $310 |
| Edit Images | 150 | 200 | 300 |
| Coverage | Up to 2 hours | Up to 6 hours | Up to 8 hours |
| Location | 1 | 3 | Any number of locations within the hour |
| Photo Retouching | Yes | Yes | Yes |
| Revision | 1 | 1 | 1 |
| Delivery | 14 days | 24-25 days | 30 days |
Apart from these packages, some photographers offer photo booth rental services and charge extra for video shooting. So, it's up to you which packaging plan suits your business and set prices as per your recommendations. But always avoid charging extra; because photography is a creative art that needs to be honored as per its capabilities.
Final Words
"Great photography is about depth of feeling, not depth of field." – Peter Adams
As a photographer, your main goal is to become familiar with your own camera settings that provide you enough confidence to compete in several situations. Now that you have all the ideas and tips to capture the best sweet 16 photography, it's time to get behind that camera and start shooting.