Jewelry is a dainty product! Selling jewelry online is like joining in virtual combat. It needs tactics to follow. You have to know how to sell jewelry online successfully and the right sets of guidelines so that you fulfill your target to gain profit from the online store.
If you are starting from scratch- going to start a jewelry business online, you have a lot on your plate! Combining strategic plans, finding a niche, including good photos, engaging product description in an online selling platform, online store setup, and so on. And there are more even after you have finalized your store.
Don't worry, you aren't on your own! We are here to assist you to find the best way to sell jewelry online with-
Importance of selling jewelry online
A how-to guide (a step by step guideline)
Jewelry selling tips
Answers to Frequently Ask Questions
So, stick around.
Why Should You Sell Jewelry Products Online?
You need an online store to sell jewelry for mainly 3 reasons-
Save- risk, time, cost, money.
Maintenance and control- from any place
Easy access- brand promotion and global clients 24 x 7
People love fashion trends for jewelry products, and an online store allows you to show them the latest collection you bring, helping your store recognizable. And not to mention, the digital jewelry business is thriving. Thus, having an online store is a necessity of time.
Moreover, online stores are giving more room to help the owners learn about target clients, their psychology, how to attract and turn them into buyers, marketing and selling strategy, pricing policy, and expanding their eCommerce presence.
Both online and physical stores have their particular perks; even so, in this day and age, an online jewelry store/eCommerce platforms are the best way to sell jewelry.
How to Sell Jewelry Online?
Every journey begins with a step. Jewelry selling is no exception. Whether you consider it a fashion product or a personally used product- your product needs to reach your potential clients. That's how you make online jewelry selling profitable and increase online sales.
Without further ado, let's answer how do you start selling jewelry online.
Research Top to Bottom
Begin your start with research- about anything and everything related to the jewelry business. Trendy jewelry, Metal jewelry, or occasion-based (i.e. wedding) jewelry, which one is demandable? Everything you need to think ahead.
Research the platforms which are most convenient for you. Take note of competitors, what they did when they started. Then, decide your targeted audience- what they like. If you come up with some well-thought answers, it would be easier for you to take the next step without much trouble.
Define Your Niche
Finding a niche for the jewelry business is a vital step. Yes, jewelry does have its niche. You have to find a profitable one as your niche and consider the clientele at the get go. You can find your niche by different categories, for example-
Material based jewelry – Gold, Diamond.
Wearing based jewelry- necklace, earrings.
Eco friendly jewelry- Aluminium, Stainless Steel.
Costume Jewelry- Wood, Brass
Handmade Jewelry- Any jewelry that people made manually.
In the competitive jewelry market, your priority should be finding your niche, and the correct approach should be after conducting thorough market research. Some jewelry pieces have occasional demand; some have exclusive demand- you need to decide which one you want to do business with.
Find Your Jewelry Product Partner
To deliver a product, you need a supplier or manufacturer. However, finding a trustworthy business partner is challenging, so you need to dig deeper to know the details. You can get suppliers' information by asking around in the industry, searching in the marketplaces, and googling it.
When you find one, make sure to do some in-depth research about that supplier before making your move. Remember, you are dealing with one of the pricey products- jewelry; letting your guard down for once may risk your whole business!
Jewelry sales platform
Here comes the very first important step to start selling jewelry successfully. Deciding on the right online or eCommerce platforms includes versatile works. Rather than starting within short notice, a well-thought and well-planned will benefit you the most. For your selling platform, these 2 are the best options-
1. eCommerce Builders
You may want to sell custom jewelry or any type of jewelry online, thus having your own site or online store is a must. Platforms like Shopify, Bigcommerce are widely chosen for this task.
The benefit of an online store is that you have complete control over your design, decoration, customization, branding, etc. Consider these matters while choosing your online store- budget, design, features, etc.
2. Ecommerce Platforms
Etsy, Amazon, eBay are the best online marketplace to sell jewelry. It has been providing top-notch shopping experiences; hence sites like these are on a roll. Sites like Dogeared or Diamond-Me sell only jewelry. These are some of the best platform to sell jewelry online.
If your selling target includes these digital marketplaces, you are on the right track. The benefit is these sites get lots of traffic, so you don't have to worry much about reaching target customers.
Online Store Setup
You have picked your platform. Now, this is how you can set up your eCommerce store-
Choose template-make sure it is not complicated.
Add high-quality product images.
Customize it- for example, theme, home page, categories, order and payment process, etc.
Select a domain name for your store- unique, short, and memorable.
While setting up your store, you must consider SEO factors, for example- desktop and mobile optimization, easy to navigate, high-quality images and engaging descriptions, social media, etc.
Display Jewelry Product Photos
Online stores have their drawback, which is product intangibility. This can't be solved completely, but the perception can be delivered through photos. That's why as a digital shop owner for jewelry, you need to show images of your jewelry pieces, but that should be of high quality.
Quality photos help you attract and engage your potential clients, solidify the professionalism of your brand, convert leads and get more traffic, etc. So, make sure your jewelry images do that justice to your clients. In this regard, outsourcing photo editing services from a clipping path service provider is a worthwhile decision.
Powerful Product Description
Let's say you just posted a photo of a ring; I doubt if it would get you anything. When your selling purpose is involved, use the power of words along with images.
A well-written product description can help increase sales and engage more clients. The purpose of the product description is to inform the customers of the product, features, materials and encourage them to buy it.
Accurate Jewelry Product Pricing
Like any other product, jewelry needs accurate pricing. While doing so, factor these following matters in-
Used material
Gemstones or not
Handmade or machine made
Customized on request/ bespoke pieces
Labor and time.
You need to have an idea of how much you should charge for your jewelry. Don't overprice or underprice- both may cause no selling. Before pricing, you better check the market and competitors' pricing; you will have an idea. Also, make the pricing transparent.
Order Process
Have a smooth ordering process! Steps after steps or too much complexity will drive your potential customers away. Online shoppers are not patient enough to give second chances; rather, they will leave at once!
Plenty of online stores are vying to get clients. So to get your fair share of sales, ensure a good shopping journey for your clients. Also, make your ordering process client-friendly.
Payment System
Ensure flexible payment options for your customers. So, having a payment assortment is appreciated to cater to the maximum number of customers. The most popular payment gateways for online stores are-
Paypal
Credit Card
Stripe
PaySimple etc.
Shipping Policy
For your eCommerce store, you need to determine the type of shipping you are going to take, pick-up spot, reaching destination, etc. According to Bigcommerce, these are the popular eCommerce shipping options-
Free shipping
Flat rate
Table rate shipping
Live rates from a carrier
Mixed and alternative strategies
You need to select the shipping option that is beneficial for both of you considering jewelry size, charge, distance, price, and of your customers to get it on time.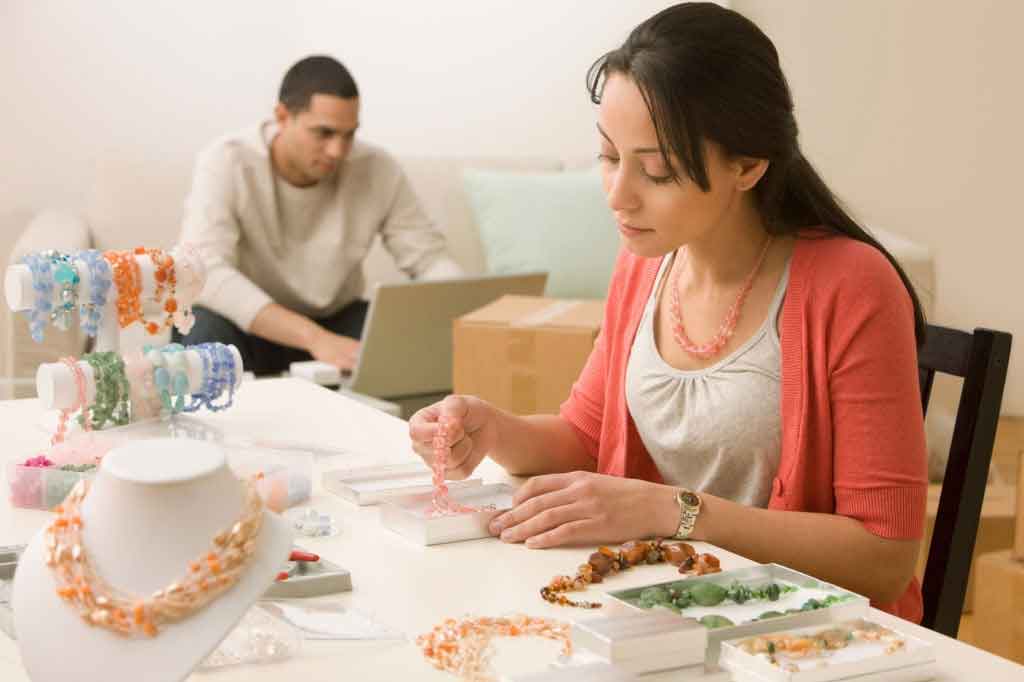 Promote Your Store
They say, "Without promotion, something terrible happens… nothing!" You don't want to risk your hard work going for nothing. So, let your audience see what you got.
Online platforms are an extensive field of advertising any product. So, the best ways to promote your jewelry product online are-
Use the Google platform.
Use 5 marketing channels- SEO, Social Media, Email, Referral, and Video.
Take a content marketing approach
Arrange contests, offer discounts, etc.
Add a story of sentiment for your jewelry.
Show don't tell- testimonials and customers' reviews.
The best part of promotion is there are no limits; you can use any platform, method, ways that go along with your strategy.
Manage your stock
Having adequate products in inventory is important for effective stock management. You wouldn't want to face double selling a jewelry piece or no product after confirming the order. So, to ensure supply and delivery, you need to have enough product in your inventory and organize that part.
This is where eCommerce website builders back you up. You customize and track all of this information instead of keeping your eyes wide open all the time. Reports, stock level, revenue, number of visits, you know everything.
Online Jewelry Selling Tips
While dealing with online jewelry buyers, you will see they mostly ask who sells jewelry near me. So, as an online seller of jewelry, you can serve those customers and deliver products to their doorstep.
However, along with the abovementioned activities, there are some tips for selling jewelry online you need to follow. These tips will help you reach close to your clients and become a trustworthy brand in this industry. What are those?
1. Sell Real Jewelry
Prohibit doing fraudulent business- this is a red flag! Many suppliers want to profit more by selling cheap products in the name of pricey pieces. The consequences are- tremendous loss, the site shut down, reputation hampered, and lost clientele! Being honest with your ethics will do long-term good for you.
Sell authentic jewelry pieces. If you want to verify whether the jewelry pieces are fake or real, do so. Stay true to your words and actions; you will build your brand as an international one oneday.
2. Have a Model for Photography
Model photography is a popular choice among renowned brands. Many people hire professional models for this, which is an excellent way of personalizing customers with the products. Consider taking this chance. Add some images of people wearing the jewelry.
In this regard, professional models are a great option. They cultivate their skills and know exactly how to manifest your jewelry pieces with elegance and perfection. You just have to find a model who resembles your target clients. Let's say one of your jewelry is a pendant for teenage girls. You better have a teenage model.
3. Use Social Media Platform
The power of social media is enormous. It has umbrellaed 3.78 billion people. It is considered as the most significant influencing platform for any work if you want to promote your jewelry store.
Facebook, Twitter, Instagram, LinkedIn- all these platforms have their distinguished users. Regular activities there will help you establish brand professionalism. Use free promotion and paid advertisement. Using this platform to reach more of a targeted audience will help you in product branding, drive traffic and increase conversion rate.
4. Touch Your Clients' Heart
Through your website, promotion (post, advertisement, video, images) try creating a sentimental ambiance. A sense of emotion is an effective approach to connect the audience.
Here go the ideas. Let's say you have your custom-designed bracelet- create a story with it like "feel invincible". You intend to tell them that you are bound to feel better when you wear the pieces of jewelry you love. Or, if you have necklaces, you can say "a gift for your mother" to make every potential user feel that they should buy and gift it to their moms.
5. Include Product Description
They say 'good products have good descriptions.' So have a well-written, informative, and worth to read product description. It will trigger your clients' buying decisions. The more details your product description includes, the less confused your potential buyers become. They get clear-cut answers of whether this product is enough to fulfill their needs.
The same goes for jewelry, so create a compelling and unique description for your jewelry. They will have enough knowledge of your jewelry product, and this will convince them to buy it.
6. Consistency in Promotion
When you are promoting your jewelry pieces, be consistent with your promotional activities. Some businesses stay consistent at their initial stage, but over the time, their efforts seemingly fade. This made clients disappointed, confused and caused dire effects eventually.
Be persistent with your promotional consistency. Being so helps you engage and reach more customers. For promotional and marketing activities, consistency leads to customer satisfaction and progress in work, helps get recognition as a credible brand, and reputed build professionalism. This impacts achieving your goal.
7. Celebrate Festivals
Due to Christmas, jewelry sales reach their peak every December. As a result, jewelry stores make more than their annual sales in this month alone! Take Tiffany and co. as an example. They published a report of record Christmas sales online in 2020.
Jewelry is a perfect piece for a keepsake or a gift during any occasion or festival! People tend to give gifts during festivals. So take this advantage to engage customers. If you can convey the ideal message and connect your brand as part of the festival, make their day more special, you can be sure to have loyalty from your customers!
Believe you me; clients love such professionalism too much. The more pleasant their shopping experience is, the better your chances are to be recognized.
FAQs: How to Sell Jewelry Online
Q: What kind of jewelry sells best?
Jewelry has an evergreen demand all the time. Still, some pieces of jewelry gravitate more selling. Some of those are-
Pendant Necklace
Charm Bracelet
Designed earrings
Engraved ornaments etc
Q: Where's the best place to sell diamond jewelry online?
The best place for selling diamond jewelry should be-
Your online store
Social media
Ecommerce platforms, etc.
Q: What is the best online marketplace to sell jewelry?
The best online marketplace for selling jewelry would be Amazon, eBay, Walmart, Bonanza, etc.
Q: Is it profitable to sell jewelry online?
Statistics show that jewelry has increased profit margins up to 75%, so yes, online jewelry selling is profitable.
Q: What is the safest way to sell jewelry online?
Selling through online jewelry stores or eCommerce platforms has been so far the safest way for the online jewelry business.
Final Verdict
According to statistics, during 2020-2024, the online jewelry market is expected to grow to $19.88 billion. So, it is expected that the jewelry industry won't back down in the online competition.
I have tried to cover all the vital parts on how to sell jewelry online, hope this will help your flying start. Now, it's time for you to do your best & make the most of it!!